BIONICLE Glatorian Are Coming!
Posted by
on November 12, 2008 at 07:41 PM CST: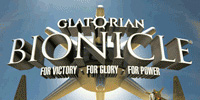 Club Lego gives us a sneak preview of 2009. A brand new BIONICLE universe explodes on to the scene in 2009 with Glatorian!

Skilled fighters who battle for their villages in arenas large and small, Glatorian can fight on their own or team with Agori villagers.
Stage your own battles on the desert world of Bara Magna.